George Orwell's intensely powerful novel – live on stage in a critically-acclaimed production by shake & stir.
Animal Farm, one of the most enduring political commentaries returns in a multi-award winning, critically-acclaimed theatre production. George Orwell's intensely powerful fairy tale allegorizes and satirizes communist governments while illustrating with stunning simplicity how greed and power corrupts with devastating consequences to all who yield.
Revolution has taken place at Manor Farm. The pigs have assumed control and all the animals, fueled by enthusiastic camaraderie and guided by a set of self-imposed rules, are promised a better life free from the self-serving greed of humans. However, it is not long until the rules that promised equality and freedom become the shackles that bind the animals once again.
Created by shake & stir and directed by Michael Futcher, Animal Farm promises to be one of the most shocking, relevant and wickedly funny theatre events of 2020.
This project has been assisted by the Australian Government through the Australia Council for the Arts, its arts funding and advisory body. Tour supported by arTour an initiative of the Queensland Government through Arts Queensland.
Duration
Approx 1.5 hours
Director
Director: Michael Futcher
Writers
Written by George Orwell
Adapted by Nick Skubij
Creative Team
Designer: Josh McIntosh
Sound Designer: Guy Webster
Lighting Designer: Jason Glenwright
Recommended Age & Warnings
Recommended for 12+ Haze, smoke and strobe effects, loud music.
Education Resource
For schools:
– free education kit addressing curriculum
– post show Q&A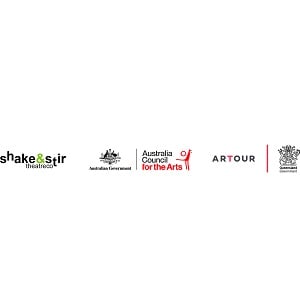 "Do whatever you can to get a ticket!"
"One of the most raw pieces of theatre produced in this country in recent decades. Don't miss your chance."
"shake & stir nailed it. Physical Theatre at its best."
"shake & stir's production of George Orwell's classic political allegory is a vigorously physical and impressive theatrical rendering."