Resonance X
APPLICATIONS ARE NOW OPEN FOR THE 2022 RESONANCE X PROGRAM!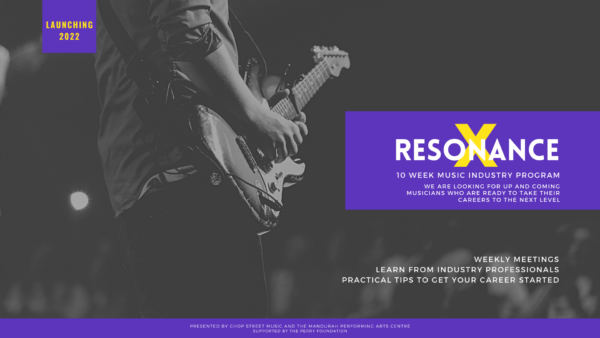 Resonance X is a music industry program launching in 2022 for emerging musicians who are ready to take their music careers to the next level. Over 10 weeks, a select group of local musicians will get the chance to gain practical skills and guidance through the beginning stages of their careers.
After a successful all-day music event (Resonance), Chop Street Music and the Mandurah Performing Arts Centre are excited to work closely with 10 emerging musicians from Mandurah and surrounds as part of the first Resonance X Program. The program is completely free and will be hosted at the Mandurah Performing Arts Centre on a weekly basis starting in February 2022. We encourage any soloists and/or groups who have original music and are ready to kick start their careers to apply!
Over the 10 weeks, attendees will get the opportunity to hear from music industry professionals, take part in workshops, record a demo and perform with ongoing support from the Chop Street
team during the program. Resonance X will cover the following topics:
Branding and marketing
Approaching promoters and venues
Royalties
Publishing
Income streams
Launching your music effectively
Planning a release
Recording
Taking care of your finances as a musician
Applicants can apply by filling out the form HERE
Everyone who applies will go in the draw to win a $100 Mega Music Voucher. Shortlisted applicants will be contacted in early January for an in person meeting.
Last month, Chop Street Music and The Mandurah Performing Arts Centre hosted the very first RESONANCE event. The all-day music event revealed an amazing pool of talented musicians in the area and was a taster into what the Resonance X program will be providing in 2022.