Resonance X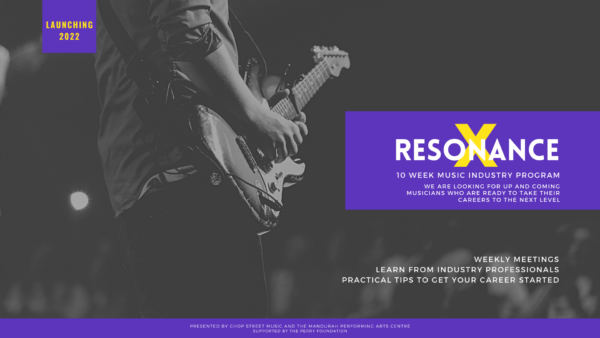 Resonance X was a music industry program for emerging musicians who were ready to take their music careers to the next level. Over 10 weeks, a select group of local musicians were given the chance to gain practical skills and guidance through the beginning stages of their careers.
After a successful all-day music event (Resonance), Chop Street Music and the Mandurah Performing Arts Centre worked closely with 10 emerging musicians from Mandurah and surrounds as part of the first Resonance X Program. The program was completely free and hosted at the Mandurah Performing Arts Centre on a weekly basis in February 2022.
Over the 10 weeks, attendees had the opportunity to hear from music industry professionals, take part in workshops, record a demo and perform with ongoing support from the Chop Street
team during the program. Resonance X covered the following topics:
Branding and marketing
Approaching promoters and venues
Royalties
Publishing
Income streams
Launching your music effectively
Planning a release
Recording
Taking care of your finances as a musician
In November 2021, Chop Street Music and The Mandurah Performing Arts Centre hosted the very first RESONANCE event. The all-day music event revealed an amazing pool of talented musicians in the area and was a taster into what the Resonance X program provided in 2022.